8 World Health Threats
What role do health threats play in the pop­u­la­tions of dif­fer­ent countries?
What are the stages of the epi­demi­o­logic transition?
What are exam­ples and rea­sons for each of these stages?
Are there any epi­demics that are more rel­e­vant to the world's pop­u­la­tion?  Where? Why?
Be sure to address the role of LDC vs. MDC in this issue.
* Health threats decrease the  Natural Increase Rate(NIR) of a country it also decreases the crude death rates (CRD).
* Epidemiologic transition= Comes from epidemiology, "which is the branch of medical science" that focuses on the incidence, distribution, and control of diseases that affects a large number of people.
Stage 1= pestilence and famine
-Infectious and parasitic diseases become the main reason of human deaths, beside the attacks and accidents from animals and humans.
Stage 2= Receding pandemics
(Pandemics is  a disease that affects a wide ranged area and population.)
This stage was during the Industrial Revolution and many improvements were found in sanitation, nutrition, and medicine. The effects were not immediate due to migration of poor people in  closed in cities ; there were also some issues with religious beliefs and the spread of disease on poor people.
Stage 3= Degenerative and human-created diseases
Decrease in infectious disease deaths and more cases of chronic disorders( cardiovascular and cancer) from aging.  These include illnesses  such as Polio, Measles,  Pertussis.
Stage 4= Delayed degenerative diseases
The life expectancy of older people became greater, and diseases become less of a threat or disappear.
* Examples for stages
stage 1= The Black Plague, migration of rodents
stage 2= Cholera, a large population in little areas
stage 3= Lung Cancer, ignorance to the affects of tobacco and ciggarettes
stage 4= Measles, little immunization to illnesses from weather and living condition
* Polio was a big health threat epedimec in the 20th century. many cases occured, even President Rosevelt had it.
Black Plague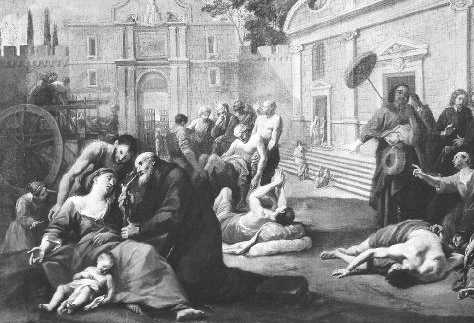 Polio